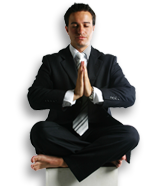 Welcome to the Liquid Mind meditation break. This page is a courtesy for those wanting a short "timed" five-minute musical meditation. There is no talking on this mp3; you're welcome to use it freely.
I start and end my day with a short meditation, which helps me navigate the sometimes choppy waters of e-paced modern living. Heck, go ahead and take a five-minute meditation break at work today (I won't tell anyone)!
There are hundreds of meditation techniques, but the one I use is a simple "clearing" meditation, just breathing and counting. It's normal and natural for thoughts to come and go while meditating; I just think of thoughts as clouds and let them float by.